We pride ourselves on choosing the right team for BeBaBo. We continually offer education to the highest level so they can provide you with the latest techniques, ideas and products.
We specialise in everything from occasion hair up through to a classic bob. All our senior stylists have been qualified for at least 10 years and our stylists for 4 years.
+
ABOUT
Having sold a very successful hairdressing salon, Bojangles – in Knaresborough, the time was right to open in Harrogate.
Two years on from opening our doors  we are busy with an excellent team of stylists on hand to keep our work at the highest level.
EXPERIENCE
Warren trained in Harrogate (back in the day!) before moving to London to gain more experience. Warren then spent four years in Australia to further his career before moving back to Yorkshire and opening his first salon, Bojangles.Having trained many stylists over the years most have gone on to be successful  Warren enjoys making people look their best,Restyles, Colour placement and Colour Correction.
SPECIALITIES
Women's Restyles, Colour placement, Colour Correction and Men's hair styling.
WHY HAIRDRESSING?
"I had a Saturday job when I was 15 and loved the buzz of a busy salon – that was me hooked!"
INSPIRATION
Richard Branson , Vidal Sassoon and Trevor Sorbie.
FAVOURITES
Film: Bourne Identity
Music: Classic Rock & Dance Music Northern Soul
My Ducati Diavel motorbike.
THREE WORDS
Thrive  /Love /Explore
+
ABOUT
Olivia owns BeBaBo with husband Warren. Whilst Warren is hairdressing Olivia manages the salon looking after all the day to day business needs, running reception and keeping the team in check 😉 She previously worked in sales and business development within different industries including TIGI Hair Care UK. Olivia enjoys the in salon training sessions especially when it comes to the products that are sold at BeBaBo. Knowing the product selection means she can recommend the right home care products that will recreate and maintain the clients hair after leaving the salon.
EXPERIENCE
Whilst Olivia does not have any hands on hairdressing experience she has learnt a lot about the industry having been with Warren for many years and working for TIGI UK .
SPECIALITIES
Olivia enjoys looking after the hard working team at BeBaBo and maintaining a high standard of customer service at the clients every visit.
WHY HAIRDRESSING?
I have always been interested in fashion and hair plays a key part of the whole look. TIGI UK gave me the opportunity to work within the hairdressing industry and now I am right at the heart of it! Seeing the fantastic haircuts and colours that the team produce makes me very proud.
INSPIRATION
Vidal Sassoon – he came from nothing and became a master of his trade because he loved it. His work is iconic and recreated all around the world to this day.
FAVOURITES
Film: The Wizard of Oz or any Bond Film
Music: I don't think I could pin point one as my collection is so eclectic…..Pink Floyd, Lenny Kravitz, Earth Wind & Fire, Calvin Harris, Daft Punk….Duran Duran!! You see the list is endless and very mixed!!
Quote
"Let's face it, a nice creamy chocolate cake does a lot for a lot of people; it does for me!" – Audrey Hepburn.
THREE WORDS
Fashionable | Approachable | Vivacious
+
ABOUT 
Having spent 11 years in Leeds City centre I opted for a change of scene and decided to relocate. I have now been working in Harrogate for 17 years and still love every minute here!
EXPERIENCE 
I won 2 of the industries most prestigious awards and worked for the fashion bible, Vogue. Working alongside some of the biggest names in the industry has helped me gain invaluable experience. I have learnt some amazing but also some harsh lessons along the way, yet I wouldn't change it for the world as it has made me who I am today!
SPECIALITIES
Cut & Colour
Couldn't give up either if I had to choose!
WHY HAIRDRESSING?
After being a Saturday Girl it was just a natural progression (even if it was illegal to work at the age of 11!)
INSPIRATION
Vidal Sassoon & Coco Chanel
FAVOURITES
Music – Northern Soul or anything old skool funk.
Film – The Colour Purple
Book – Alchemist by Paulo Coeltlo
Quote
"Never compromise your beliefs to fit in, always be you don't change for anyone."
THREE WORDS
Live | Dream | Believe
+
ABOUT
Evie trained with one of the top stylists in Hungary before opening her own salon in her home town of Nyiregyhaza. She felt she had settled down too early and wanted to see more of the world. Evie had the chance to work and train at a salon in Brooklyn, New York – so she took it!
EXPERIENCE
Evie trained at a top salon in Hungary from the age of 14 gaining experience by working at shows and events for Wella and achieving her NVQ Level 1 & 2. At the age of 18 she opened her own salon. Whilst in New York in 2009 Evie trained in threading, tinting and make up and undertakes continual training at BeBaBo with Wella – her next course is Wella's Red Carpet Hair. Evie is the salon ambassador for Nioxin.
SPECIALITIES
Bridal Hair, Colour & Cutting, Eyebrow threading & tinting.
WHY HAIRDRESSING?
Hairdressing was never a question for Evie – she knew she was born to be in this industry.
INSPIRATION
Many amazing hairstylist have inspired me, but my main inspiration was my mentor who taught me from the beginning, Gyorgy Lukovics.
FAVOURITES
Film: Pretty Woman
Music: I love music…..anything from present day pop to musicals.
Quote:  
"A girl should be two things: Classy and Fabulous!" – Coco Channel
THREE WORDS
Outgoing | Creative | Loyal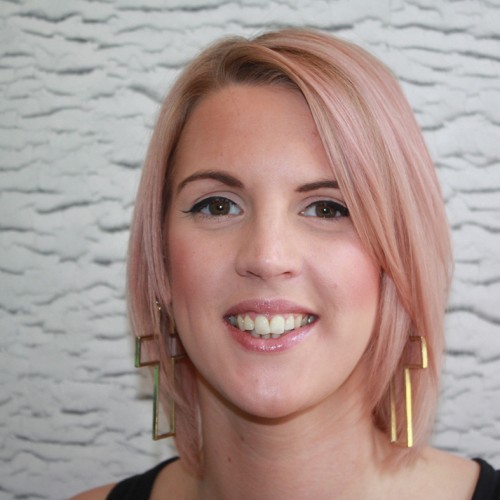 +
ABOUT
Lyndsey is a innovative and very ambitious hairdresser. She has been in the hairdressing industry for over 14 years now and has worked in various mainstream salons throughout West and North Yorkshire.Lyndsey is our in-salon trainer and educator as well as Salon Manager. Lyndsey frequently attends training at The Wella Academy, Manchester.
EXPERIENCE
Having the privilege of working in salons throughout West and North Yorkshire. From city centre salons to village based salons. Nowhere has been too big or too small. Gaining experience from other hairdressers and trainers has made a massive impact on Lyndsey's training and knowledge. Qualifications include: Hairdressing Level 2 & 3 A1 Assessors Award PTLLS Lyndsey is also working towards her Certificate in Education and hopes to achieve this by 2016. Lyndsey is also trained in Nioxin & Kebelo treatments
SPECIALITIES
Colouring is Lyndsey's speciality. From the fashion forward to the colour shy, Lyndsey has lots of great techniques and amazing advice on colour to suit everyone's needs. Lyndsey also enjoys photography work and session hair, which is more of a hobby within the hairdressing industry.
WHY HAIRDRESSING?
I helped out a friend at a salon nearby to my family home and the rest is history!!! Drawn in by the buzz and making people happy I was hooked and wanted more.
INSPIRATION
Jamie Stevens inspires me; I was lucky enough to attend a workshop in Portugal 4 years ago. I've been hooked on his work and followed him ever since.
FAVOURITES
Film: Has to be 'The Shawkshank Redemption'
Music: I love Justin Timberlake, he has a gorgeous voice and is cute too.
THREE WORDS
Organised | Funny | Loyal
+
ABOUT  
After subduing her passion for hairdressing Faye studied English literature and psychology at the University of Dundee. However she couldn't ignore her desire to pursue a more creative career and decided to retrain and hasn't looked back since.
EXPERIENCE
Faye completed her level 2 and 3 NVQ at intuitions in Harrogate. Over the years Faye has completed many creative courses with L'Oréal and Matrix. More recently she has had a wide range of training with Wella to expand her skills and keep her up to date including colour correction and bridal hair. Faye recently completed both the Kérastase ambassador and specialist course.
SPECIALITIES
Faye has a passion for hair ups and loves doing weddings. Faye is also a qualified Kérastase ambassador and specialist and can advise you on all your hair issues.
WHY HAIRDRESSING?  
I chose hairdressing as i felt it helped me express all my creative energy. Plus I like meeting new people and making them feel great when they leave the salon.
INSPIRATION
James Brown for his session styling and Jamie Stevens for his creative ideas.
FAVOURITES
Film: Pitch perfect, Love Actually or anything Disney
Music: I have a very eclectic taste I like everything from Motown to dance. music is very important to me but if I had to pick one song it would be chasing cars by Snow Patrol
Quote:
"There are far better things ahead than any we leave behind"- C.S Lewis
THREE WORDS
Creative | Friendly| Perfectionist
+
ABOUT  
After been a Saturday girl from the age of 14 I always knew I wanted to do hairdressing from that point, after school I went straight into an apprenticeship and put lots of hard work in to get where I am now. 
EXPERIENCE
I was a Saturday girl from the age of 14. 
Studied my level 2 NVQ in hairdressing at intuitions. 
Studied my level 3 NVQ in hairdressing at Westrow academy 
Studied my NVQ level 2 in barbering at Westrow academy.
I then continued to do a training course called finishing school for one year which taught me all my creative work and understanding about the hair more. 
I was also involved in the art team for my old company . 
SPECIALITIES
I enjoying doing all aspects of hairdressing but what I love the most is highlighting hair and occasion hair. 
WHY HAIRDRESSING?  
From the day I stepped into the salon to be a Saturday girl I knew this was the job for me I love all the energy, positive vibes and creativity within a salon. I also enjoy making clients feel happy about their hair. 
INSPIRATION
Rita Ora- I love how creative she is about her hair/ Louis Vuitton 
FAVOURITES
Music – r&b/old school/ charts 
Film – Hunger Games 
Quote:
" If you don't look good, we don't look good." 
THREE WORDS
Enjoy | Believe | Loyal